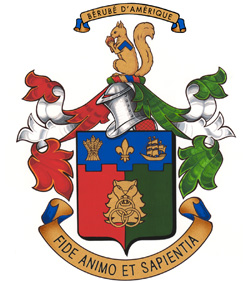 The announcement of the Letters Patent was made on December 12, 2009, in Volume 143, page 3680 of the Canada Gazette.
Arms
Per pale Gules and Vert a lion's face holding in its mouth three annuli interlaced Or, on a chief embattled Azure a fleur-de-lis between a garb and a three-masted ship Or;
Crest
A squirrel sejant Or charged on the shoulder with a chevron Azure and cracking a nut proper;
Motto
FIDE ANIMO ET SAPIENTIA;
Symbolism
Arms
The lion's head represents the Norman origins of Damien Berrubé, ancestor of the North American Bérubés. The three annulets, here representing three centuries of history, also symbolize the three virtues named in the motto, as well as Damien's Christian faith. The embattled line suggests a wall and represents the ancestor's trade as a mason. The fleur-de-lis represents France and New France, while the ship and sheaf of wheat symbolize the trades of the early generations of Bérubés in the Americas.
Crest
The squirrel and chevron are taken from the crest of the arms of people named Barroby and Barrow, with the colours reversed. They therefore represent patronymics with roots similar to those of the Bérubés.
Motto
Meaning "With faith, courage and wisdom."