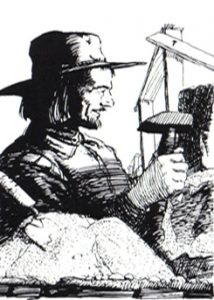 Our ancestor Damien (Damian) Bérubé (Berruby) was born in Normandy on February 2nd 1647, at Rocquefort, a small community located 40 kilometres from Rouen. He was the son of Robert and Catherine Ferrecoq.
Jean-Baptiste-François de Boishébert, future Seigneur of Rivière-Ouelle, left Rocquefort for Québec in June 1671. It is probable that Damien, Robert Lévesque, Jacques Thiboutot and other Normans were on this trip because records show them to be working for Jean-Baptiste de Boishébert at the Seigneurie of « La Bouteillerie » in Rivière-Ouelle.
Seigneurie de "La Bouteillerie"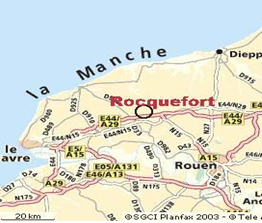 In 1674, Damian received a grant of land in the Seigneurie of "La Bouteillerie". A legal document dated 11th of April 1692, reveals that Damien's lot was located south-west of the river (Rivière-Ouelle).
His land was on the river and extended inland. It measured 12 acres wide by 42 acres long.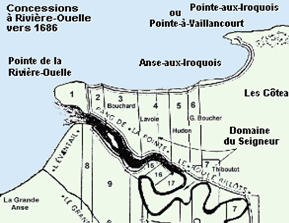 The second generation of Damien's children acquired lots on the north shore of the river. Because of the many transactions over the years, most of the lots have been subdivided but many of them today are still Bérubé properties.
Damien's land grant location
Following highway 20 east on the south shore of the saint-Lawrence River, you can see on the map below that the part of the highway located 1 kilometre to the left of the bridge crosses approximately 1 kilometre of Damien's original lot.
Damien Bérubé's Family
On the 22nd of August 1679, at L'Islet, Damien, then 32 years old, married Jeanne Savonnet, the widow of Jean Soucy. Jeanne came from Paris and she was 33 years old.
Jeanne already had 4 children by her previous marriage to Jean Soucy and gave birth to a further 6 children with her union to Damien: Jeanne-Marguerite, Pierre, Ignace, Marie-Josephte, Thérèse and Mathurin.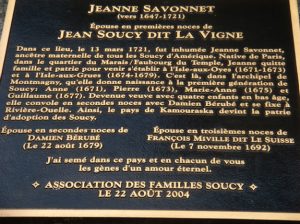 On the 7th of March 1688, Damien and 2 of his daughters died under the same unknown circumstances. Jeanne married François Miville (nicknamed Le Suisse) and gave birth to her last child, Marie-Françoise.
Jeanne lost her third husband in 1711. She died on the 12th of March 1721 at 71. Jeanne and Damien rest in peace in the Rivière-Ouelle cemetery where their descendants have erected a monument to their memory.